When there is a child in need,
We are here to bring a little light
For us, our mission is our passion! Sewing is one passion…. and children another!!   We stitch travel-size pillows, dressed in a kid-friendly, colorful pillowcase.  Our mission is to provide a bit of pillow comfort to each and every kiddo facing a life challenge.
Every year, in our little corner of the world alone, hundreds and hundreds of kiddos face daily challenges that some of us can't imagine handling as adults, much less as kids.  Bullying and violence, home and family challenges, medical health issues, or any number of incidents can make daily life anything but smooth.  What began in 2006 as a summer service project with the local violence shelter, has grown dramatically to include a number of local and regional partners who work daily with the kids we are trying to reach.
Join us in our stitching effort… whether you know how to sew or not!  Here's how you fit in…
Yards and Yards of Fabric!
100% cotton kid-friendly prints (flannel too) are what we're looking for. Each pillow case takes a 28″ cut of fabric. Check your fabric stash or pick up a yard or two the next time you visit your favorite fabric store or quilt shop.
Sew, Sew, Sew!
Experienced sewers AND novices at the sewing machine are welcome to help out. If you know how to sew, we challenge you to make a few pillow cases yourself, then teach at least one other person to sew (adult or child). Pattern and complete instructions appear on the Instructions tab. Join us at a Pillow Fight Night to enjoy the camaraderie of fellow generous souls.  Get Involved at our next event.
Lots of Pillow Forms!
We're using travel-size pillow forms, approx 14″ x 20″. At present, we've found a wonderful local manufacturer who has become our supplier for free pillow stuffing! We're now stitching up the pillows as well as the cases.
Any donations can be dropped at 619 Olde River Ct. in Green Bay, WI. Phone 920-433-0401. We'll forward the kid-friendly pillows to our service partners as needed. See the map and more on the Get Involved link.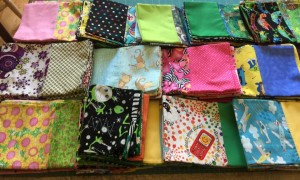 Get Involved at our next Great Pillow Fight event.